Boudoir Collection Pricing
I believe that every women deserve to feel beautiful and sexy. Our Boudoir session prices are affordable an will fit to any budget.
Payment Plans are available for the clients in Houston TX, The Woodlands and surrounded areas*
---
---
Glamour Beauty + Modeling Collection Pricing
All Glamour Modeling Collections include print and commercial use permit
---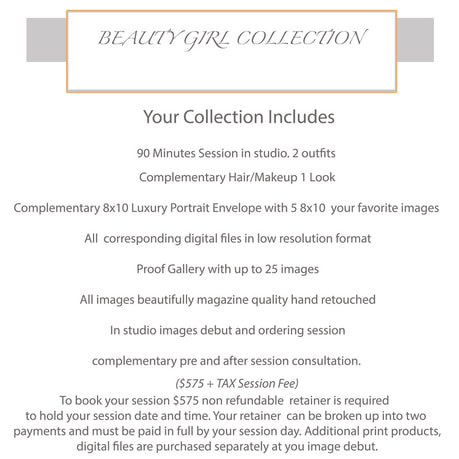 ---
Let's Make a Party!
It is no secret that time spent with close friends is therapeutic & if you've ever experienced a boudoir photo shoot, you know how empowering a session can feel. Now, what happens when you combine friendship and boudoir photography? A day spent listening to music & getting pampered by a professional make up artist while you drink mimosas with your best girlfriends.

Best choice for brides to host a bachelorette party! Birthday Celebration! Great start to a wild evening Girl's Night Out!
​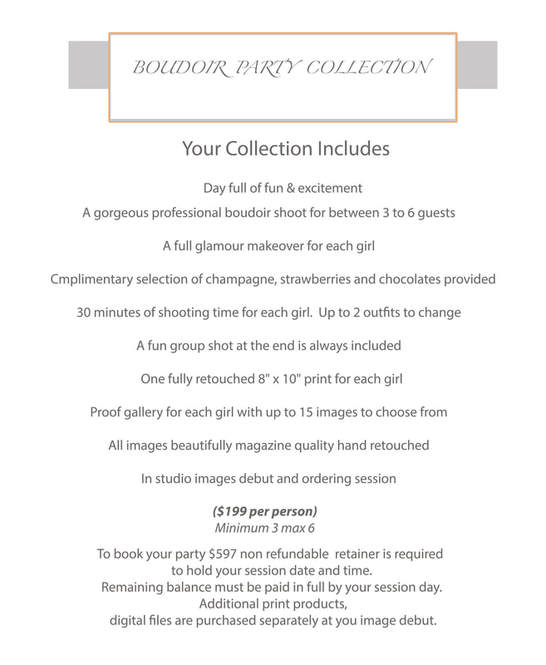 ALA-CARTE


I offering a variety of high quality, luxury products.

EARN FREE GIFT WITH YOUR ORDER
Purchase for $700 or more and receive a FREE Mobile App. Value $200
Custom Design Luxury Album


Beautifully simple from start to finish, Luxury Album can include 6 to 45+ images with the true lay-flat pages packed in modern graphite box one ultimate album for every client who wants to have great tasteful and sexy gift to beloved one. Size ranges from 6x8 up to 8x12. Choose from a variety of sizes and optional upgrades to create an album that fits taste and budgets alike.


---
"Amore Mia" Boudoir Portrait Folio


Amore Mia is a beautiful portrait folio that holds 2 prints. The folio is large enough for a beautiful display and small
enough to tuck away when mother in low is visiting :). Most popular gift from the bride to the groom
---
Image Boxes


Image Box includes a minimum 10 images and maximum 25 images. The Box is a literal box of treasure and a great way to store your intimate portrait's prints and enhance your presentation.You may display your images every day per one or present them all in ones.


---
Metal Print


Unique way to present your best images with Metal Print.


---
Wall Art


For more information about pricing and products Please
contact me
* Pricing subject to change